Diving Koh Phangan, Thailand
Koh Phangan's location ensures some of the best dive sites in the Gulf of Thailand are within easy reach. There are several dive companies who offer snorkeling trips, beach dives and boat dives which all serve to highlight radiant coral and a body of water rich in aquatic life. Trips include equipment, guides and meals with hotel transfers available on request.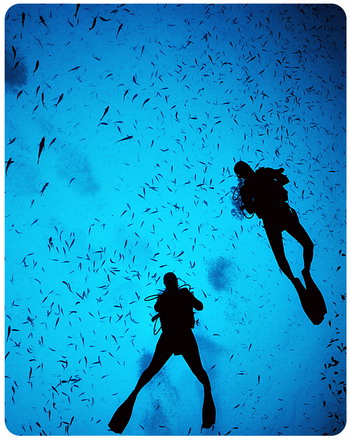 Those wishing to learn will find that dive operators offer a range of courses from introductory/beginner to those wishing to obtain more advanced qualifications. Thailand and Koh Phangan is one of the cheapest places in the world to dive, groups tend to be small and there is generally a high standard of instruction.

The west coast Koh Phangan's dive sites tend to be the most popular on the Island with the natural sand bar of Koh Mah being the stand out spot. Other fantastic areas to dive and snorkel include Haad Salad and Haad Yao. Divers will find a vibrant coral reef running parallel to the beaches situated anywhere between Wok Tum and Ko Ma. The reef is very accessible and offer relaxing dives to approximately 20m to take in hard and soft coral features and large schools of fish.

Further afield is the famous Sail Rock which is widely regarded as the best dive site in the Gulf of Thailand. Larger fish such as whale sharks, grouper and barracuda are attracted this stunning rock formation which offers swim-thrus and coral wall dives to a depth of up to 45m. Other stunning dive sites include Chumpon Pinnacle and Angthong Marine Park which offers rare and untouched coral formations inhabited by some of the rarest underwater life in Thailand.
<! end of div 'left1'>
Map of Rooms in Koh Phangan