| | |
| --- | --- |
| Find rooms in Koh Phangan | |



Accomodation, Hotels, Booking rooms and resorts

Koh-Phangan is the fifth biggest island of Thailand. Koh Phangan Island is an ideal place to spend your holiday or to enjoy a break at any time. 30 % of Koh-PhaNgan is classified Than Sadet National Park, which should preserve the island from a wild touristy development. There are beaches of white sand, tropical forests... traditions, history, restaurants, beautiful hotels ... all for you to enjoy.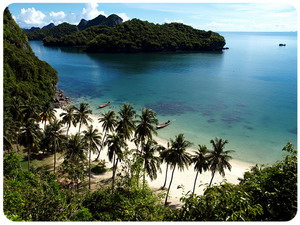 Angthong Marine Park
A stunning collection of protected islands located approximately 40 km south west of Koh Phangan and one our by speed boat. - Tour operator, runs organised day tours to this unspoilt Angthong National Marine park. Expect swim, snorkeling and enjoy the beautiful sea life and kayak in turquoise waters and explore the rainforest, beaches..

Getting around Phangan Island by taxi, motorbike, car or bicycle is perfect way to explore the Koh Phangan. There are many places to be explored such as Chinese Temple, fisherman village Chaloklam, Phaeng Waterfalls at Koh Phangan Than Sadet National Park. Untold riches awaits your discovery!

Rooms, resort and hotels of Koh Phangan
Koh Phangan has a wealth of accommodation options It is just a case of choosing which part of the Phangan Island you would like to stay. Koh Phangan Navigator is fast, secure and comfortable way to pre-order your room, resort or hotel at Koh Phangan Island.

Beaches of Koh Phangan
Koh Phangan has a plenty of beautiful white sandy beaches which are perfect for travellers looking to unwind and relax. Koh Phangan is suitable privacy and seclusion, beach games or just taking in the beautiful palm fringed scenery!

Getting Here
There are many possibilities how to get to Koh Phangan. Koh Phangan is island without an airport, so you have to you use boat as the last transport. You can fly to Koh Samui or Suratthani, or use the Train or Bus services (I. class or VIP class) from Bangkok..
List of all resorts on Koh Phangan in our database:
<! end of div 'left1'>
Map of Rooms in Koh Phangan