Angthong Marine Park
A Unique Experience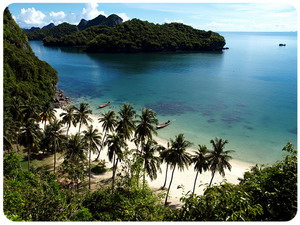 A stunning collection of 42 protected Islands located approximately 40 km South West of Koh Phangan and 1 hour by speedboat. Tour operator runs well organized
day trips to Angthong Marine Park
which has some of the most jaw dropping scenery in the Gulf of Thailand. Expect to swim,
snorkeling
and kayaking in
crystal clear waters and explore the rainforest, viewpoints, Emerald Saltwater lake (Thale Nai), beaches, caves and cliffs on land.
Whether on land or in sea, there is an abundance of wildlife exclusive to the Angthong Park Archipelago. It is normal for trip include all meals, snorkeling equipment and park entrance fees.
Accommodation
or camping within the Angthong Marine Park is available on request.
Information about Angthong National Park
Most of the 42 islands are close to each other what making a
breathtaking panorama sailing around the park.
All of the islands are uninhabited and undeveloped except for one. This island, Ko Paluay, is inhabited by sea-gypsies who still earn a living from fishing.
Angthong National Park occupies almost 250 sq km and is famous for its natural beauty.
The best time to visit this archipelago is late February to October when visibility is at its best.
Attractions of Marine Park
Koh Mae Koh
on this island there is a beautiful inner sea saltwater lake named
Talay Nai Lagoon
. It is about seven meters deep and has a few
viewpoints.
It is worth visiting even if you'll have to walk (and sometimes almost climb) for some time to get there. There are also two beaches on this island suitable for swimming: Ao Na Thap and Ao Tham Rang. Other of islands situated here are
Koh Sam Sao
(North of Koh Mae Koh with a few breathtaking beaches) as well as Koh Prayad, Koh Hin Dap and Koh Kha further North.
Fees and Permits To Angthong Park
Entrance fee to the Angthong Marine Park: Normally not included in the tour fee unless otherwise specified, 200 baht/person, 100 baht for kids under 12 years old. Thai nationals pay 80 baht.
Accommodation Angthong Marine Park
Booking can be arranged through the
Angthong Marine Park website
or telephone booking at +66 2562 0760. Reservation can be made 60 days in advance.
<! end of div 'left1'>
Map of Rooms in Koh Phangan