Jungle Experience Party
Welcome to the most beautiful party experience on Koh Phangan....

Jungle Experience is one of the original underground dance gatherings in Koh Phangan. This
unique eco party location
in a beautiful secret garden clearing deep in the midst of the Baan Tai jungle has a natural mountain stream running through the party zone and leading you to the stunningly decorated dancefloor.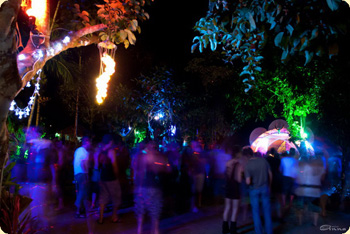 Prepare to be enchanted by our lush tropical flower garden enhanced with
magical UV decorations
, laser and organic light installations, water features and variety of cozy chillout zones.
Fantastic new decorations, lasers, DJ booth & some new interactive creations for you to play with soon
:-D
Jungle Experience is famous for its amazing atmosphere in the morning when the sun rises over the mountain backdrop illuminating the natural beauty of the location and bringing a smile to everyone's face.
<! end of div 'left1'>
Map of Rooms in Koh Phangan