Transport on Koh Phangan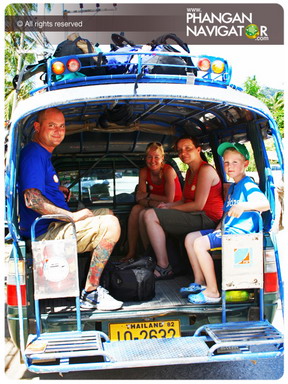 Walk:
Around Haad Rin, Thongasala and along the beach. For jungle walks it is recommended to take one of the professional guides. Guides can be found at Than Sadet national park office near Phaeng waterfalls.
Bike:
Bicycles are an affordable and enjoyable way to explore the Island. Be careful of the sun and always carry sun block with you.
Motorbikes:
Can be rented around Island and can accommodate one or two passengers. Motorbikes may be driven on all paved and dirt Island roads, but are not allowed on beach. Do not drink and drive. ALWAYS WEAR HELMET.
Car:
Depending on your itinerary, you may require a vehicle while here. Do not forget there is no insurance.
Taxi:
Taxi service is available Island-wide. A stand is located by the ferry piers at Thongsala Village and another stand is located in Haad Rin near to the Police station. Agree on a price in advance.
Thongsala to Haad Rin 100 Baht.
Thongsala to Haad Yao/ Haad Salad 100 Baht.
Thongsala to Thong Nai Pan/ Than Sadet Beach 200-250 Baht.


* Taxi prices vary during busy/quiet months and if they are shared.
<! end of div 'left1'>
Map of Rooms in Koh Phangan