Koh Phangan Island, Thailand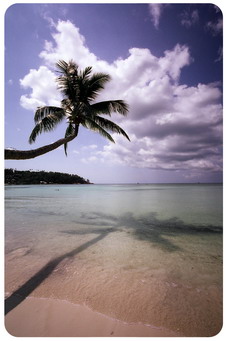 The Koh Phangan Island has a surface area of 168 square kilometres and is located in the subtropical temperature zones. Koh Phangan is about 50 kilometres from the mainland and it is truly a world of contrast. Koh Phangan Island is an ideal place to spend your holiday or to enjoy a break at any time. Koh PhaNgan has always been a spiritual place for its natives and still today it is a piece of paradise. 30 % of Koh-PhaNgan is classified "Than Sadet National Park", which should preserve the island from a wild touristy development. There are beaches of white sand, tropical forests... traditions, history, gastronomy all for you to enjoy.

The information on our Phangan Navigator website will help you get around, engage in a friendly dinner conversation and maybe even sound like a local!
Banks on Koh Phangan
On Phangan Island there is 9 different banks and about 70 ATM cash machines. Only part where is not any of ATM cash machines are Haad Yuan, Haad Tien, Than Sadet and Haad Khuad (Bottle Beach). Bank at Koh Phangan are generally open from 8.30 am to 3.30 pm and money exchangers are open till 6.00 pm. Visa, MasterCard, Visa Electron, American Express, Maestro, Cirrus are widely accepted in ATM as well as when you pay at travel agency or your hotel.

Health Care, Clinics and Hospitals on Koh Phangan
Koh Phangan has a government hospital which is located 2km out of Thongsala on the way to Wat Khao Noi (follow the signs). Phangan hospital is open daily with doctor available 24 hours a day with good standards of care. Doctors and medical staff at Koh Phangan hospital are able to arrange quick transfer to Koh Samui in the case of serious sickness or accident. There are several clinics at Haad Rin Beach, who are able to help you as well. Doctor Worawut at Thongsla is very helpful and open daily Monday to Friday 5 pm till 6 pm.
Bandon Inter Hospital
Tel.: 077 375 471 -2 Area: South East Location Haad Rin
Phangan Medical Center
Tel: 077 239 599 Area: South West Location: middle of road between Haad Rin and Baan Tai Website: www.samuihospital.com
Dr. Worawut Clinic
Tel: 089 621 3013 Area: South Location: Thongsala main road, near Tesco Lotus
Haad Rin Clinic
Tel.: 077 375 342 Area: Haad Rin Beach Location: Look for the clinic near the pier.
Phangan Hospital
Tel.: 077 375 103 Area: about 2 km north of Thangsala village on the road to Chaloklum 24 hours emergency services
Koh Phangan Police station
Tel.: 077 377 114 Area: 2 km north of Thon Sala Town
Post offices
There is a post office south of Thongsala, and another at Hat Rin Nai on the road to Hat Rin Nok.
Sighs of Koh Phangan
Wat Khao Tham
This cave temple is beautifully situated on top of a hill near the little village of Ban Tai . An American monk lived in this temple for over a decade and his ashes are interred on a cliff overlooking a palm field below. It's not a true wat, since there are only a couple of monks and a nun in residence. Ten-day meditation retreats taught by American-Australian couple are run during the latter half of most months – there are no retreats during the rainy season between September and November. The cost is 2900 Baht Check out the website of (www.watkowtahm.org) for more information. Anyone under 25 years of age must talk with the teachers before being accepted for the retreat. A bulletin board at the temple also has information.
Activities on Koh Phangan
There are loads of opportunities to try your hand at water sports, including jet-skiiing. Kite-boarding, water-skiing, sea-kayaking, wind-surfing and sailing. Back on land, alternative modes of transport include all-terrain vehicles(ATVSs) or quad-bikes, and elephants.
Thai Boxing in Koh Phangan
If you want to try your foot at kick boxing or work up a seat on the Stairmaster, head to Chinnarat Gym & Thai Boxing witch has facilities in Thongsala. The gym offers day visitors a range of weights and cardio equipment, The gym's instructors have been teaching and training fighters for more than eight years now and offer all levels of training -from novice to prefight. Stop by or give them a ring for rates.
Diving & Snorkelling
Coral reefs can be found intermittently at various points around the island. The better bay-reef spots are at the island's north western tip and are suitable for snorkelling. There are also some rock reefs of interest on the eastern side of the island.
Sail Rock diving Koh Phangan
An outstanding site for scuba dives, a pinnacle called
Hin Bai (Sail Rock)
lies about 15 km north of the island. An abundance of corals and tropical fish can be seen at depths of 10m to 40m and there's an interesting vertical swim-throught called " The Chimney". Conditions are best from April to October, when divers sometimes enjoy visibility of up to 20m or more. Hin Bai can also be reached from Ko Tao, although the boating distance from the latter add 4 km to 5km to the trip.
Accommodation in Koh Phangan
Beach-bungalow operations are concentrated to the north and southeast of Thongsala and especially on the southern end of the island at Haad Rin, but there are many other places to stay. Koh Phangan has just one top-end resort of the calibre found on Koh Samui, but that's likely to change soon. Although the budget bracket still predominates on this backpacker Mecca, quite a few more than decent midrange options with air-con, hot shower and real décor are also present. The sleeping options are listed in a clockwise direction starting with Thongsala.
Remember, when you jump off the boat you may be surrounded by hotel touts pushing small operations all over the island. However, many of these bungalows will be on very remote beaches,some may lack electricity or running water, and you could feel quite isolated. If you're looking for lots of other travellers, multiple eating options or the chance to party hard, head to Haad Yao or Haad Rin
<! end of div 'left1'>
Map of Rooms in Koh Phangan